Custom View Binders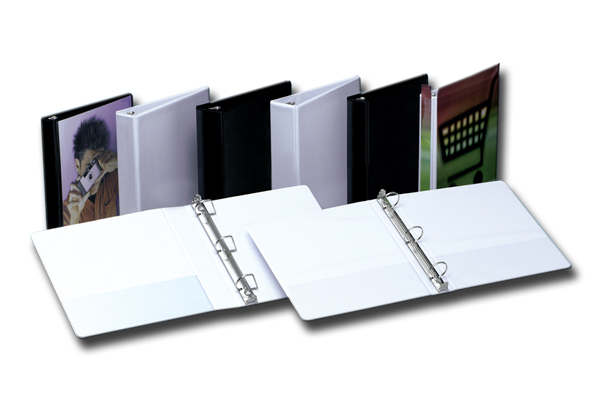 Why Custom View Binders?
Definitely the way to go if you are going to personalize each binder. The standard is white vinyl, although we can make them in colors, and Dee rings are available. Made with a clear overlay that is open at the top so you can insert custom title sheets for each client.
Inexpensive, imported view binders have become the lost leader at the office supply chain stores. Our view binders are made with thicker vinyl, solid chipboard support panels and higher quality rings. If your going to use a quantity of them give us a call. If you are planning to insert the same title sheets into 50 or more view binders… please consider (and get a quote on) entrapment style.
At The BinderWorks we work with all construction styles to give you the custom product suited for your particular need. A customized company ring binder is still the ultimate way to "get the word out". Your custom binder is your company representative on site, your mini advertising billboard inside your clients' four walls. The internet is a fantastic invention, but you can't force a prospect to go to your web site. Your imprinted custom binder will keep your company name in front of the buyers… Every Day! ½" to 4″ Capacity, Pocket sized membership books to table sized map holders. We've done them all. Vinyl, Paperboard, Poly or Litho-Wrap. They each have a place… we can help you decide. Special Pockets for Loose Sheets, Business Card Holders, CD/DVD Holders… Tell us what you need. One of the big advantages of the ring binder is that it is not a bound document. You can easily change out pages, sections or the entire contents. In fact the company binder is a great excuse for your field rep to visit each and every client on a regular schedule… to update the binder. While there, it affords an opportunity to build rapport, introduce a new accessory or program, demo a new product and ask for an order! The binder contents should tell your company history, display your company products and tell about the services your company provides. Success stories and references are often included. In this internet age there are people that believe they no longer need to distribute an imprinted binder for their company. In reality, the fact is that when the imprinted company binder is absent from the buyers bookshelf the orders start to fade and the vendor becomes forgotten. It's a simple case of "Out of Sight, Out of Mind" Custom Binders put your company name and logo in front of your customer base every single day. Even if they don't touch that binder every day. Your customers still see your company identity on the spine of your binder every time they look at their book shelf… Now that's advertising!